Good afternoon, If you have not yet registered your student's online please do so asap! If you need assistance please contact your child's school building asap. The building secretaries are available until 3:30 today and tomorrow if necessary. Thank you
Good Evening, Online registration will open Monday, July 24th for returning students. Instructions can be found on the district website under the tab for 2023-2024 registration. This process will take place through your current skyward access. Thank you
Good Afternoon, As we finish up the school year and prepare for next year we would like to gather feedback from Bond County Unit #2 families. If you could please take the time to complete the survey at the provided link we would greatly appreciate it.
https://tejoin.com/scroll/664234624
Thank you
Good afternoon, this is just a reminder about tomorrow's 2:00 dismissal. GES 2:00, PES 2:00, GJH 2:00, and GHS 2:23. Have a great summer break.
Good morning, this is just a reminder about today's 2:00 dismissal. KRP 1:30, GES 2:00, PES 2:00, GJH 2:00, and High School 2:23. School will resume on Tuesday, April 11. Have a great break!
Good Afternoon, This is an important message for all families of Bond County Students. Out of an abundance of caution due to potential severe weather we will be dismissing one hour early today, March 31, 2023. The dismissal times will be as follows: KRP: 1:30 GES,PES, GJH: 2:00 High School Drivers/Walkers: 2:00 High School Bus Riders: 2:23. All extra curricular activities are canceled for this evening. Again we are doing this out of an abundance of caution due to potential severe weather. We apologize for the inconvenience and change in schedule. Thank you, Dr. Wes Olson
Students will be dismissed early on Friday, March 10, 2023 . Greenville Elementary 12:30 PM, Pocahontas Center 12:30 PM, Greenville Junior High 12:35 PM, Unit #2 High School 12:51 PM. KRP classes will not be in attendance.
Early dismissal Friday, September 16 at 2:00.
Reminder to Parents regarding expectations at High School Football Games Comet football opens up their varsity season at home on Friday. We expect a great crowd and invite you to attend. - Gates will open at 5:30 pm this Friday night and then at 6:00 pm for the other regular season games. Varsity games begin at 7:00 pm. - Admission for the game is $4 for adults and $2 for students. Tickets for this Friday will be pre-sold at the HS Office on Thursday & Friday during school hours. - Fans can enter the Main Gate (just north of tennis courts) or South Gate. - Footballs may not be brought on the premises. - In an effort to protect the new turf field, fans will not be allowed to stand in the end zone. - Younger fans will not be allowed to run around at the complex. Fans must either sit in the bleachers or stand along the fence and watch the game. - Fans are not allowed on or near the baseball field, tennis courts, or under the football bleachers. - Jr. Comet football players DO have to pay admission, except for their designated Jr. Comet night on Friday, September 30th.

Reminder this Friday we have an early dismissal at 12:30pm for School Improvement!
Open house to pick up schedules and drop off supplies for the Jr. High will be Tuesday, August 16th, from 5:30 to 6:30. First day of school for students is Thursday, August 18, with a dismissal time of 2:00. See you soon, Mr. Brauns.

BACK TO SCHOOL CLINIC! Bond County Health Department, in collaboration with HSHS Holy Family Hospital, will provide a Back to School Health Clinic at the health department August 3rd and 4th from 7:30 – 3:30 pm. Children of all ages may visit the health department on those days and receive dental exams, immunizations and back to school physicals performed onsite HSHS Medical Group and Holy Family Hospital. There will be a raffles and goodies for youngsters. This is an amazing opportunity to get all your child's back to school requirements taken care of in one day for a free or reduced cost! Appointments can be made by contacting the health department at 664-1442, extension 126. Bond County Health Department and Holy Family Hospital want to ensure the health and wellness of all children in Bond County! Any questions can be directed to Kristy Perry, Tonja Stoecklin, Amber Helige or Mel Helmkamp at 664-1442.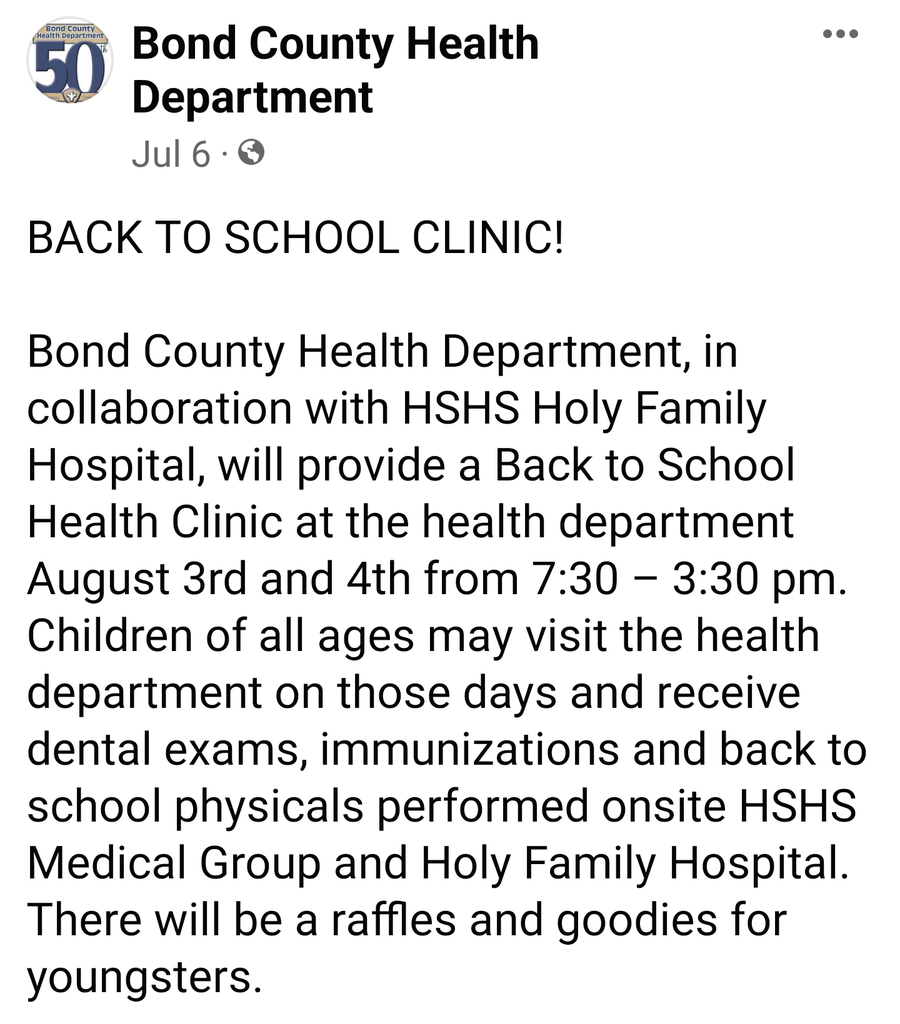 Online Registration is Open for all returning Bond County CUSD #2 students who did not complete Spring Registration.